Free shipping on all orders!
Frequently Asked Questions
The Calibrace+ is an orthotic back brace designed specifically for individuals who want to improve their posture and balance. The Calibrace+ provides total torso support with a rigid panel that runs the length of the spine and a front apron panel.  
How does the Calibrace+ work?
The Calibrace+ has patented technology that works by rolling the shoulders up and back, which realigns posture and increases stability.
What are the benefits of wearing the Calibrace+?
The Calibrace+ is back brace built to lift your shoulders up and back so that you can improve your posture and stand tall. Benefits include:
Sta

nding Taller

Feeling secure and supported

Reducing your fear of falling

Feeling an immediate lift in your shoulders

Improving your sense of dignity

Helping you to remain active and independent
Which customers benefit from using the Calibrace+? 
The Calibrace+ is effective for customers with lower back pain, abnormal posture, and poor balance, neuromuscular disorders that impact posture (i.e., Parkinson's Disease) and spinal diseases (i.e. spinal stenosis, kyphosis, and osteoporosis).
Is the Calibrace+ clinically valid?
An independent laboratory study published in the Journal of Physical Therapy Science indicated that the Calibrace+ improved posture for 9 out of 10 patients. Read the study and learn more about how the Calibrace+ is clinically proven to improve posture:
What is Calibrace+ made of?
High tech, comfortable, breathable, stretchable, and washable fabrics materials make up the body of the brace. The removable aluminum spine is cushioned within a thick fabric and provides support and rigidity to the brace without adding weight (the brace only weights 3 pounds).
To size the Calibrace+ please measure your true waist which is around your navel (belly button) area.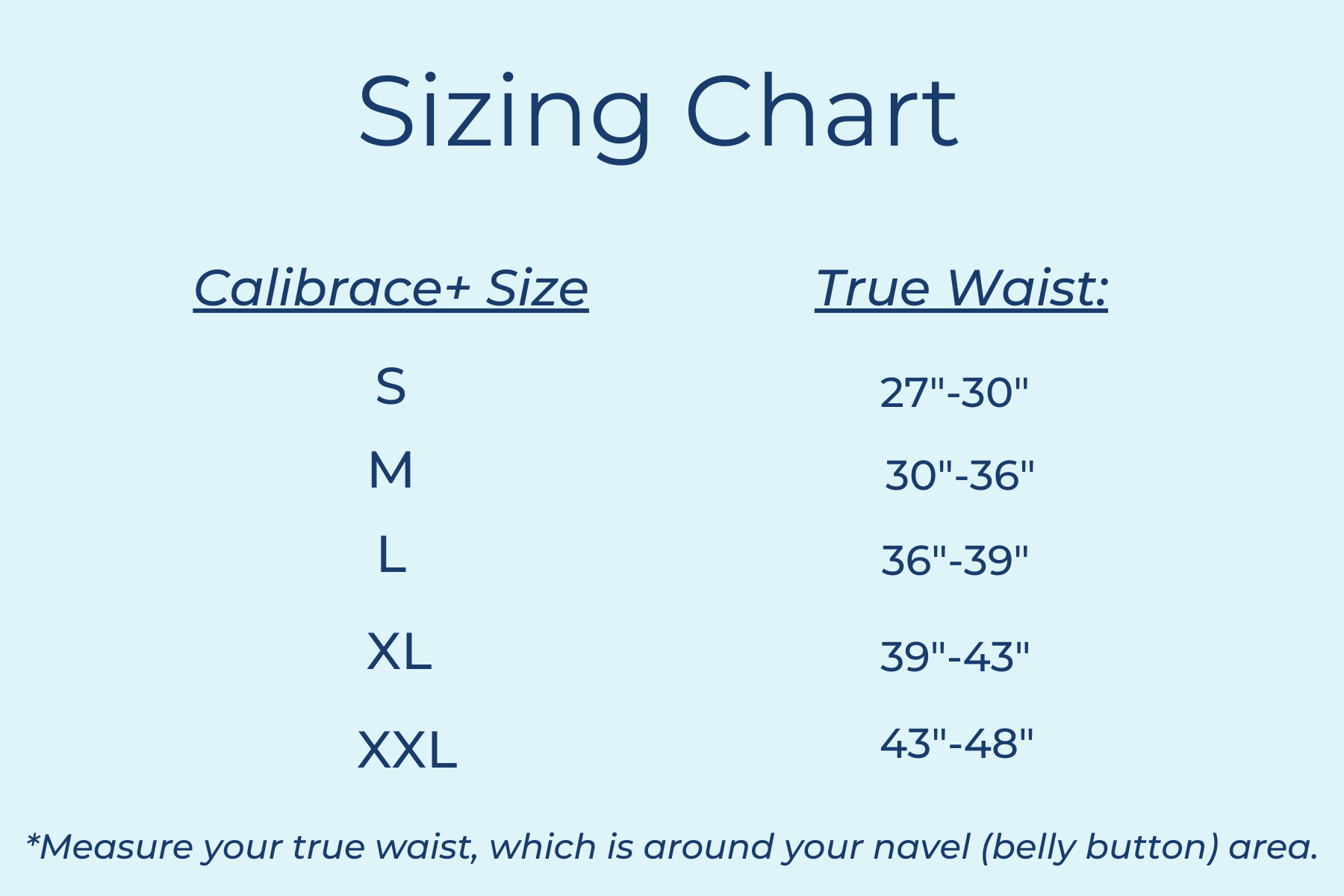 Why should Calibrace+ be adjusted to be as tight as is comfortable?
The fit should be as close to the body as possible to provide maximum support. You can expect a snug but comfortable fit that is adjustable by Velcro.
Should I wear Calibrace+ under or over my clothes?
You can wear Calibrace+ over a light undershirt but under other clothing. The Calibrace+ is designed and manufactured to be worn under clothing.
When should I wear Calibrace+?
If desired, Calibrace+ can be worn all day. The Calibrace+ can also be worn in conjunction with physical therapy or exercise.  
Can I sit while wearing the Calibrace?
Yes, you can comfortably sit, stand, walk, run, exercise, and conduct every day activities in the brace. The Calibrace was designed to promote activity. As such, the brace is comfortable and easy to wear throughout the day.  
Yes. Wash in your home machine in cold water on the delicate cycle and air dry. Make sure you remove the aluminum spine before washing.
How can I order the Calibrace+?
You can order the Calibrace+ through our website and enjoy free shipping.
When will the Calibrace+ ship?
The brace will ship in 5 to 7 business days after you place your order.
Our pulley-tension system lifts you up for an immediate and visible change in your posture.
Get back to the activities and life that you love and feel better than ever with your new, upright posture.
Fear falling because of your bent over posture? Feel secure and upright with The Calibrace+.
Have questions? Reach out to us.

1.855.379.6283

info@abililife.com

100 South Commons
Suite 102
Pittsburgh, PA 15212