Prevent Back Injury For Your Workforce   
Back injuries account for one of every five injuries and illnesses in the workplace.
Costing $1,685 per employee every year.
 Instantly Realign Posture 
The Calibrace+ is a revolutionary back brace that lifts, activates, and secures workers' backs with a patented pulley-tension system and rigid spine.
Use the Calibrace+ to promote safe movements when lifting and moving in your workplace.
Equip employees with an easy-to-use tool that instantly realigns posture.
Feel secure and supported

Reduce your fear of falling

Feel an immediate lift in your
shoulders

Helps you to remain active and
independent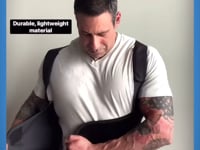 Trusted At Hospitals Nation-Wide   
   Clinically Proven Back Brace Solution  
The Calibrace+ is proven to reduce misaligned posture in even the most extreeme cases, such as in the Parkinson's Disease patient population.
Results from an independent clinical study:
Nine out of ten participants demonstrated a statistically significant change in posture.
The Calibrace+ brought participants' postural alignment into a neutral position.
   Check Out These 5-Star Reviews   
"There is nothing that I would not do for my health. I would buy this brace again and again and again. So worth the cost! My back feels like a million bucks. I'm ready to get back to my fitness activities now because I feel so good."
"You can feel your shoulders pull up right away."
"I am a 50 year old man and my wife noticed my posture curving significantly since last year. She got me the Calibrace+ back brace and I'm glad that she did. It is lightweight and really easy to put on. I slip it on when I get dressed and wear it under my clothes. I work from home so I can just wear a top over it and no one will know that I have it on. I think it's so clever how pulling the straps give you an instant lift. My wife says that she notices a huge difference in how I am standing and sitting. I might be imagining it, but I think my clothes are fitting better now that I am standing up taller. Great product! Excellent design."
"Wow! They weren't lying when they said that this product works! Super easy to wear."
1. Hold an internal discussion about your workforce's back safety needs.
2. Book a free work consultation with AbiliLife to discuss how we can help you provide a safe work environment.